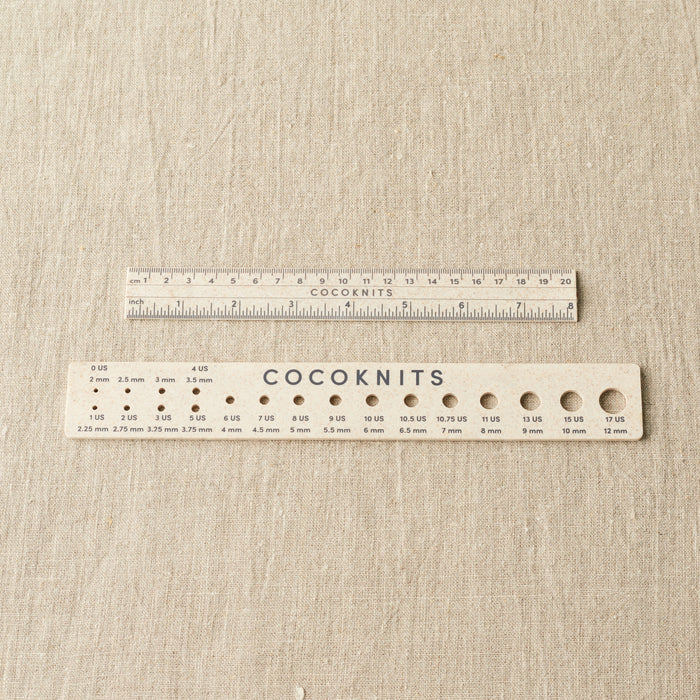 Ruler & Gauge Set
Original price
$15.00
-
Original price
$15.00
 The Ruler and Gauge Set are great for measuring gauge swatches (or other small items) and checking knitting needle sizes.  Magnets are embedded into the back of each tool, so they also attach to Cocoknits' Maker's Board or any other metal surface.  Plastic free, they are made of PLA (plant fiber, 100% biodegradable plant fiber, not water soluble) in a charming speckled linen color.
Product information:
Ruler is 8" x 1"/20cm x 2.5cm - with 3 embedded magnets
Needle Gauge is 9.875" x 1.375"/25cm x 3.5cm - with 4 embedded magnets
Measures needle sizes US 0-17/2mm - 12mm (including 2.5mm 3mm, 7mm, and 12mm)
Made from 100% fiber waste called polylactic acid, which is made from fermented plant starch such as corn, beets or sugar cane.  It is 100% biodegradable, not water soluble, and contains no plastic.
The PLA is formed around the magnets; no toxic glue was used to secure them and they' won't come out!
About Cocoknits
Cocoknits was founded by Julie Weisenberger in 2007 to create a line of tools to make knitting and making easier and more beautiful.  Cocoknits is based in Oakland, California and is a small team of women who love to make things and love supporting other creative people and businesses.  They believe all makers should have beautiful, high-quality tools to use in their craft.