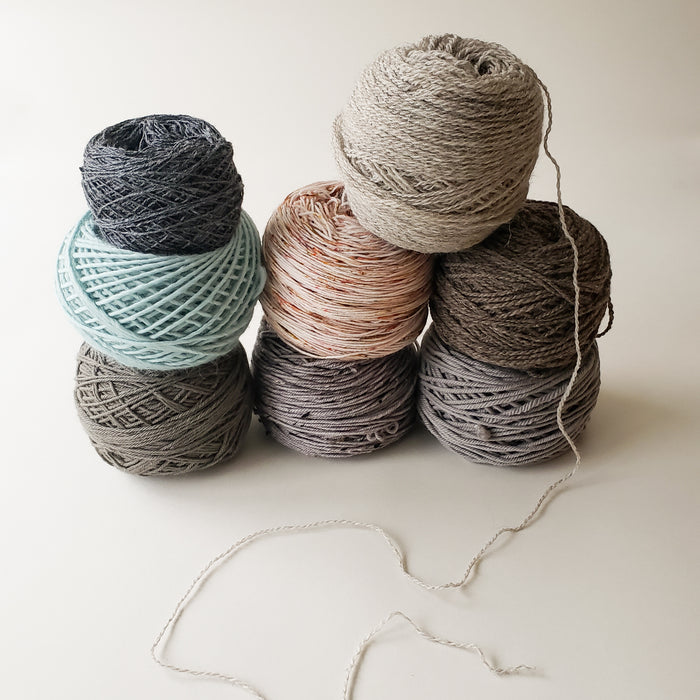 Yarn Sample
Original price
$5.00
-
Original price
$5.00
Do you want a sample of one of our yarns?  We've done everything we can to make it easier to buy yarn online, but we know that sometimes you just want to touch it.
We'll provide you with a 1 yard sample of one of our yarn lines when you purchase a yarn sample.  Please do not choose ball winding or you will be charged for shipping (which we will refund, but it creates an administrative hassle).  Shipping is included, for US addresses, and it'll be sent by USPS First Class Mail.  For international shipping, there will be an extra shipping charge of $7.
Please choose the name of the yarn line you would like to sample (for example, BC Garn Tussah Tweed) from the dropdown menu.  Also, note that we will not provide a particular color of the yarn; we will provide the yarn sample in whatever color we currently have available for samples.
Yarn samples are not returnable.
To check out the yarn lines, we've linked to each yarn line page below:
BC Garn - Alba (sport weight, 100% cotton)
BC Garn - Bio Balance (sport weight, 55% wool/45% cotton)
BC Garn - Hamelton Tweed 2 (chunky weight, 90% wool/10% viscose)
BC Garn - Northern Lights (worsted weight, 80% wool/20% silk)
BC Garn - Summer in Kashmir (sport weight, 90% cotton/10% cashmere)
BC Garn - Tussah Tweed (fingering weight, 100% silk)
Birch Hollow Fibers - Phillis DK (DK weight, 100% wool)
Birch Hollow Fibers - Sylvia Sock (fingering weight, 75% wool/25% nylon)
Black Wolf Fiber - Distinctly Alpaca Sport (sport weight, 100% alpaca)
Blue Sky Fibers - Organic Cotton Skinny (sport weight, 100% cotton)
Blue Sky Fibers - Organic Cotton Worsted (worsted weight, 100% cotton)
Blue Sky Fibers - Suri Merino (worsted weight, 60% alpaca/40% wool)
Blue Sky Fibers - Techno (bulky weight, 68% alpaca/22% silk/10% wool)
Cedar House Yarns - Irish Yearling DK (DK weight, 85% wool/15% NEP)
Cedar House Yarns - Sapling Sock (fingering weight, 75% wool/25% nylon)
Cedar House Yarns - Sprig Sport (sport weight, 100% superwash merino wool)
Cedar House Yarns - Windfall Super Bulky (super bulky weight, 80% wool/20% nylon)
Clinton Hill Cashmere - Bespoke (worsted weight, 100% cashmere)
Clinton Hill Cashmere - Bespoke DK (DK weight, 100% cashmere)
Erika Knight - British Blue 100 (DK weight, 100% wool)
Erika Knight - Cotton Gossypium (DK weight, 100% cotton)
Erika Knight - Maxi Wool (super bulky weight, 100% wool)
Erika Knight - Studio Linen (DK weight, 100% linen)
Erika Knight - Vintage Wool (worsted weight, 100% wool)
Erika Knight - Wild Wool (worsted weight, 85% wool/15% viscose/nettle)
Erika Knight - Wool Local (fingering weight, 100% wool)
Flying Goat Farm - Fingal2 (worsted weight, 100% wool)
Greenwood Hill Farm DK (DK weight, 100% wool)
Greenwood Hill Farm Worsted (worsted weight, 100% wool)
Jorstad Creek - Arranmore (worsted weight, 100% wool)
Jorstad Creek - Chuckanut (bulky weight, 70% alpaca/30% wool)
Jorstad Creek - Cornwall (fingering weight, 70% wool/10% cashmere/20% silk)
Jorstad Creek - Hazelwood (DK weight, 100% wool)
Neighborhood Fiber Company - Loft (lace weight, 70% kid mohair/30% silk)
Neighborhood Fiber Company - Organic Rustic Fingering (fingering weight, 100% wool)
O-Wool - O-Wash Chunky (bulky weight, 100% wool)
O-Wool - O-Wash Fingering (fingering weight, 100% wool)
O-Wool - O-Wash Sport (sport weight, 100% wool)
Plied Yarns - North Ave (fingering weight, 100% wool)
Plied Yarns - Pennsylvania Ave (worsted weight, 100% wool)
Sincere Sheep - Cormo Sport (sport weight, 100% wool)
Sincere Sheep - Cormo Worsted (worsted weight, 100% wool)
Sincere Sheep - Luminous DK (DK weight, 85% wool/15% silk)