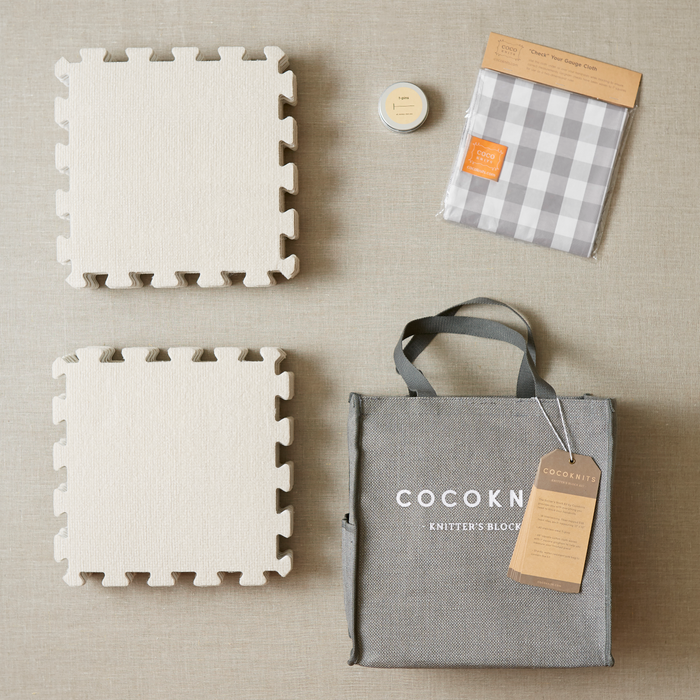 Knitter's Block
Original price
$89.00
-
Original price
$89.00
Anyone who has tried blocking knows what a difference blocking makes to the final appearance of their project.  It sounds complicated but isn't, and we even have a video showing the basics of blocking.  Cocoknits has developed this kit to make the process of blocking easier, and it has everything you need to make your projects look their best.  
You can assemble the mats into the shape you need, and they're covered in a fabric that will gently grip your knitting without pilling or leaving fibers.  Their waterproof EBA backing means that moisture won't seep through and holds pins firmly in place.  They're heat resistent and are stored in a sturdy 14" by 14" bag.
Product information:
18 interlocking, fiber -topped EVA foam tiles, each measures 12" by 12"
40 stainless steel t-pins
48" square cotton woven cloth with 1" square gingham checks to help measure your finished piece
A sturdy jute bag to hold the kit
** Formamide and formaldehyde free
About Cocoknits
Cocoknits was founded by Julie Weisenberger in 2007 to create a line of tools to make knitting and making easier and more beautiful.  Cocoknits is based in Oakland, California and is a small team of women who love to make things and love supporting other creative people and businesses.  They believe all makers should have beautiful, high-quality tools to use in their craft.