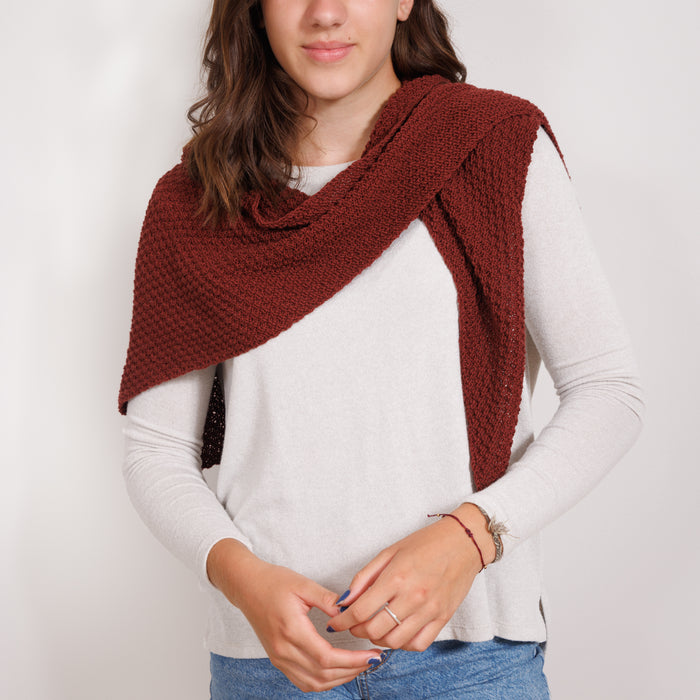 Anywhere, Conversing, and Careful
Original price
$10.00
-
Original price
$10.00
This pattern booklet has three patterns in it: Anywhere, Conversing, and Careful.  All three are different reversible textured shawls made with sequence knitting, and designed by the inventor of Sequence Knitting - Cecelia Campochiaro.  They are intended to be social knitting or travel knitting (read - you don't have to pay too much attention because it is an easy stitch repeat), and they just might be the easiest sequence knitting shawls you can make.  Make them your own with your choice of yarns and colors.
Anywhere and Conversing are tip-up triangles, and Careful is a wedge-shaped shawl worked from the back-neck out.  All three can be worked at any gauge and in any yarn - you choose.  Anywhere and Conversing can be made in a range of sizes from small scarves to big shawls, while Careful is best made as a big shawl so that it stays on the shoulders and envelops your body.
Anywhere is a 1-row pattern; Conversing is a 4-row pattern; and Careful is a completely different shape - three fused triangles in a 4-row pattern.

One model is in the Anywhere shawl in the 65 in size knit with BC Garn Summer in Kashmir, color F11 (rust color).  We used 4 balls of yarn.  The other model is in the Conversing shawl using Clinton Hill Cashmere Bespoke in Light Denim (light blue color), and we used 3 balls of yarn for a smaller shawl.
Want help picking yarn and quantity?  Get in touch by email or our number at the bottom of our site.
Learn more about Cecelia Campochiaro here.
You will receive a digital download of this design booklet.
FINISHED DIMENSIONS:
Anywhere & Conversing (3 sizes):  30 cm/12 in (43 cm/17 in, 48 cm/19 in) by 122 cm/48 in (165 cm/65 in, 203 cm/80 in)
Careful (1 size):  104 cm/41 in on the lower back edge of a triangle & 79 cm/31 in on the short end of one triangle opening along the front
GAUGE:

Because you can use any weight of yarn and will use the measurements of the shawl to decide when you are done, you don't need to worry about gauge!  Just pick your yarn, and needles that will give you a nice drape for the shawl you choose.  Want help?  Get in touch - we can help you figure it out.

MATERIALS:
You can use any yarn!  For our Anywhere, we used BC Garn Summer in Kashmir (a sport weight cotton/cashmere blend); we used 4 balls to make the 65 in size!
Recommended quantities are:
Fingering:  Anywhere/Conversing - 357 m/390 yds (679 m/743 yds, 892 m/975 yds); Careful - 1476 m/1615 yds

Sport:  Anywhere/Conversing - 333 m/364 yds (634 m/693 yds, 832 m/910 yds); Careful - 1378 m/1507 yds - We used 4 balls of BC Garn Summer in Kashmir for a 65 in sized Anywhere.
DK:  Anywhere/Conversing - 309 m/338 yds (589 m/644 yds, 773 m/845 yds); Careful - 1279 m/1400 yds
Worsted:  Anywhere/Conversing - 286 m/312 yds (543 m/594 yds, 713 m/780 yds); Careful - 1181 m/1292 yds
Light Bulky:  Anywhere/Conversing - 262 m/286 yds (498 m/545 yds, 654 m/715 yds); Careful - 1083 m/1184 yds
We used 60" needles to be able to measure the width of the Anywhere shawl (and we put a few stitches on a stitch holder to measure the full width).