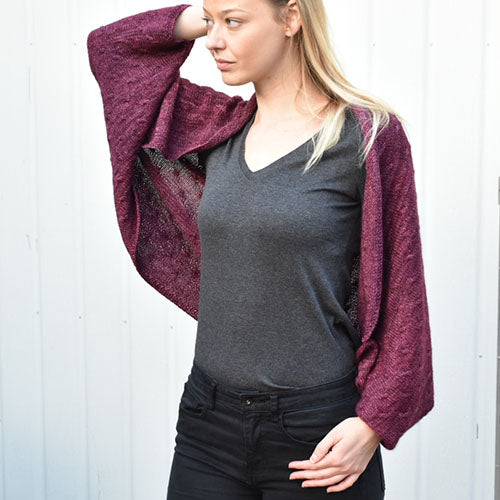 Introduction to Cables with the Marquesas Shrug
We love shrugs to keep warm on chilly days and nights.  And if you've been wanting to learn how to do cables, meet the Marquesas Shrug.  It's a relaxed shrug with a subtle cable design over the stockinette stitch fabric.  
The silhouette is easy to layer with a t-shirt and jeans or a flowy tank and a skirt or trousers.  You can wear it to work or a night out, or anywhere in between, and it'll become a wardrobe staple.
We've designed it with Black Wolf Fiber Distinctly Alpaca Sport - a sport weight alpaca yarn spun from Black Wolf's flock of alpaca in Montana.  It's super soft and warm, and knits up into a fabric with great drape.  
It's an intermediate Tutorial Design that comes in a Kit, so if you know how to knit and purl, this will help you learn the skills to take it to the next level.  Just pick your color and get started!