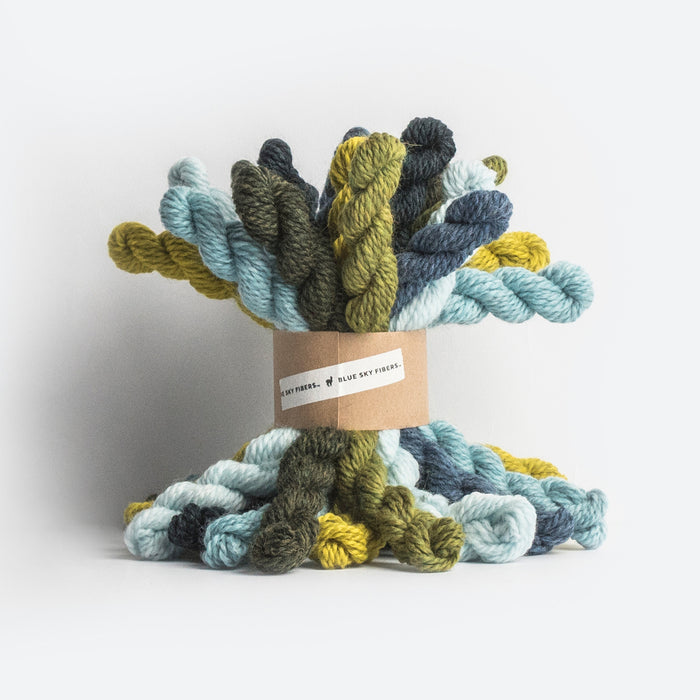 Woolstok Mini Hank Bundle (100% wool) - Cool
Original price
$35.00
-
Original price
$35.00
Blue Sky Fibers' Woolstok Bundles are designed for crafting of all kinds; knit, crochet, weave, felt and more. With each mini hank of Woolstok Worsted measuring at 12 yards each (10 meters), there are endless ways for these little bundles to make a big presence in your life. Every bundle includes 3 mini-hanks each of 7 different shades giving you plenty of options to explore color. Pick your favorite colorway and begin creating.  Project ideas and links are below, if you are looking for inspiration.
The Cool Bundle includes:
21 mini hanks Blue Sky Fibers Woolstok Worsted (100% Highland Peruvian Wool; 5g/12yds each)
Colors included (3 skeins of each):
No. 1317 Midnight Sea
No. 1309 Earth Ivy
No. 1318 Thermal Spring
No. 1305 October Sky
No. 1306 Wild Thyme
No. 1308 Golden Meadow
No. 1320 Spring Ice
***Please note that we are not able to wind mini hanks into center pull balls.
KNIT GAUGE:
5-6 sts per inch/2.5 cm
*Suggested gauge only.  Works beautifully with large or small needles.
RECOMMENDED NEEDLE/HOOK SIZE:
Needle size - 4 to 8 mm (US 6 to US 11)
Hook size -5 to 9 mm (US H-8 to M-13)

PATTERNS DESIGNED USING THE BUNDLES:

Winter Wonderland Hat (uses one bundle) (free, on Blue Sky Fibers' website)
Merry & Bright Hat (uses one bundle) (free, on Blue Sky Fibers' website)
Alpine Hat (uses 1 50 gm skein of Woolstok Worsted, plus one bundle) (free, on Blue Sky Fibers' website)
Tahoe Hat (uses one bundle) (on Blue Sky Fibers' website)
Corning Gradient Trio Cap (uses1 50 gm skein of Woolstok Worsted, plus one bundle) (on Blue Sky Fibers' website)
Acorn Street Cap (uses 1 50 gm skein of Woolstok Worsted, plus one bundle) (free, on Blue Sky Fibers' website)
Fairmont Felted Bowls (uses one bundle) (free, on Blue Sky Fibers' website)
Ellensburg Cowl  (uses 1 50 gm skein of Woolstok Worsted, plus one bundle) (free, on Blue Sky Fibers' website)
Breckenridge Bundle Hat (uses 1 50 gm skein of Woolstok Worsted, plus one bundle (on Blue Sky Fibers' website)
Ephraim Wrap (uses 6 50 gm skeins of Woolstok Worsted in the same color, plus one bundle) (on Blue Sky Fibers' website)
Chilton Cowl (uses 2 50 gm skeins of Woolstok Worsted in the same color, plus one bundle) (on Blue Sky Fibers' website)
Tiverton Cowl (uses 1 50 gm skein of Woolstok Worsted, plus one bundle) (on Blue Sky Fibers' website)
Pumpkin Patch (uses one bundle) (free, on Blue Sky Fibers' website)
Fall Leaves (uses on bundle) (free, on Blue Sky Fibers' website)