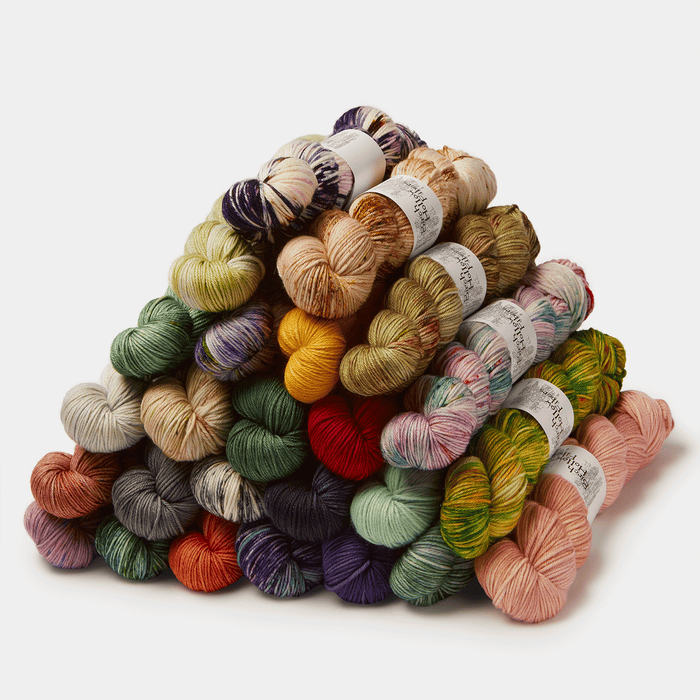 Phillis DK (100% wool)
Original price
$30.00
-
Original price
$30.00
Phillis DK is a DK weight 100% superwash Merino yarn.  It is ethically-sourced from farms where "mulesing" - an inhumane method of raising sheep - is not practiced.  Birch Hollow is a member of the Hudson Valley Textile Project which focuses on sustainability and connects farmers, makers, dyers, and more.
Phillis DK is a speckled, hand-painted yarn, and Birch Hollow develops their colorways inspired by nature and literature.  Phillis DK is named after Phillis Wheatley, a former slave and poet, who wrote the first book of published poetry by an African American author.
Due to the method of dying, each skein and batch may be a little bit different, and we recommend buying all of the yarn you need for a project at one time.  We also suggest alternating skeins when knitting projects.
Phillis DK has excellent elasticity, stitch definition, and a good drape.  It is a good choice for shawls, sweaters, hats, scarves and other projects.
YARDAGE:
115 gm skein containing 228 m/250 yds
GAUGE:
21-24 sts = 4 in (knitting); 12 -17 (crochet) 
RECOMMENDED NEEDLE/HOOK SIZE:
Needle size - 3.75 to 4.5 mm (US 5 to 7) 
Hook size - 4.5 to 5.5 mm (US 7 to I-9)