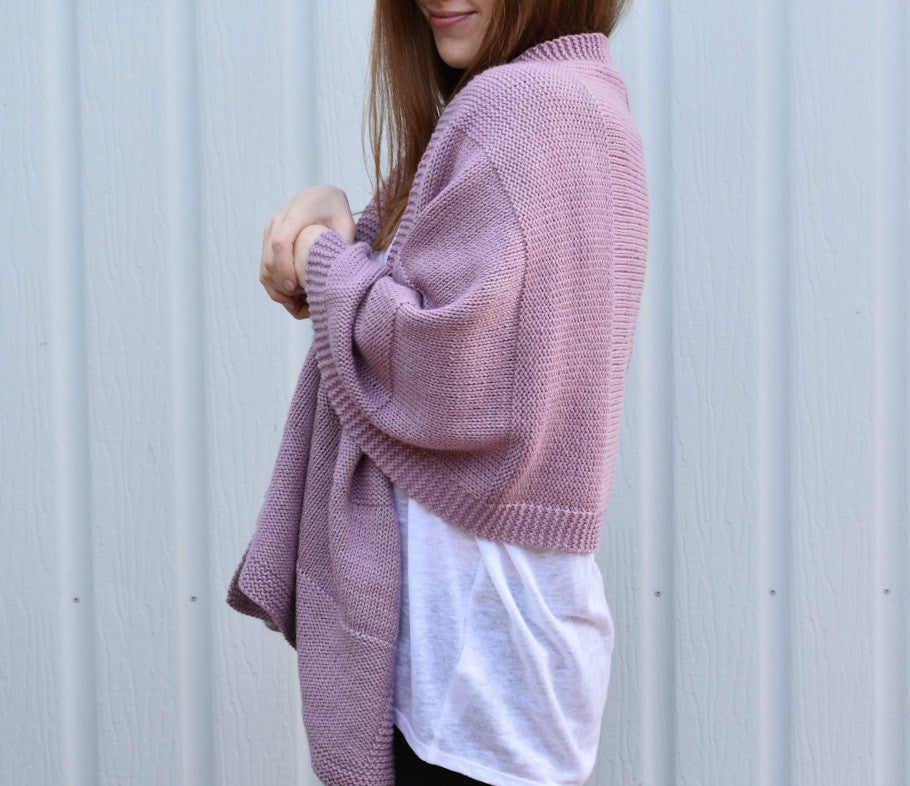 The Arrival of the May Day Wrap Kit
The Wrap
Now that Spring has sprung, we've begun focusing on warmer weather knitting.  A good wrap is our go-to accessory for the warmer months.  You can throw it on over jeans and a t-shirt or a spring dress, and it'll keep you just warm enough.  
To achieve the drape we wanted, we used larger needles than normal for a DK weight (or thickness) yarn.  This makes for a lighter, more flexible fabric - easier to snuggle into. 
And there's no reason that a beginner shouldn't be able to create a stylish wrap, so we've designed the May Day Wrap.  It's one of our Tutorial Designs, so you can learn to knit by making this Wrap.  You'll have rows to get used to the "knit" stitch, and then you'll learn to purl (which is just the reverse of a "knit" stitch).  
You'll combine knitting and purling to create the textural stripes you see in the Wrap.  If you can count, you can do it.  And we'll be here to help.
The Yarn
We designed the Wrap using Sincere Sheep's Luminous DK yarn.  Luminous DK is made of Polwarth wool sourced ethically from South America and silk.  The silk gives the yarn a softness and sheen that is beautiful.  
As you already know if you've explored our site, Sincere Sheep uses only natural dyes to achieve its colorways.  And the May Day colorway in the photo is no exception.  Sincere Sheep uses a combination of dyes from the cochineal insect (yes, insect, friends), the lac bug, and the logwood purple flowering tree.  
Sincere Sheep was inspired to create the May Day colorway by the lilacs flowering at the beginning of May.  
The Kit
Because we think Sincere Sheep's Luminous DK yarn is the perfect yarn for this design, we've decided to sell the May Day Wrap only as a kit for the time being.  The kit includes 3 skeins of Luminous DK in your choice of color, needles, the design in hard and digital copy, and one on one videochat support to help.  And we just may throw in a little surprise for you!
It's the perfect project to start for Spring.