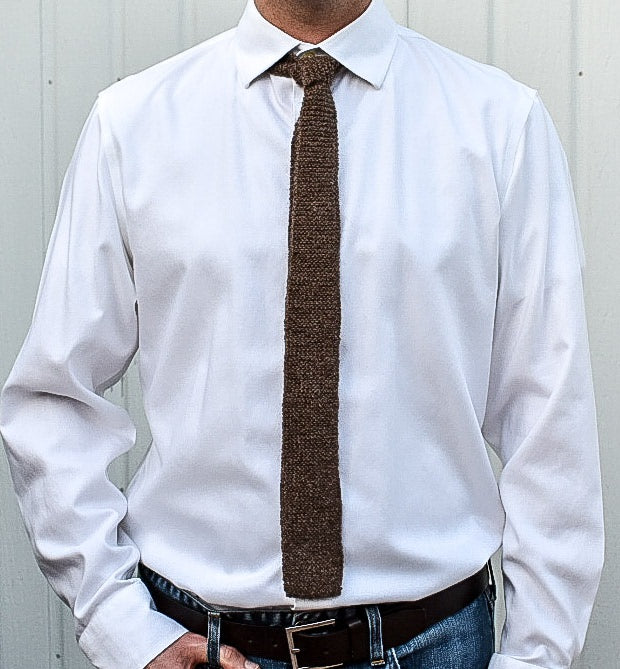 Menswear - The Lee Tie from James Cox Knits
There are plenty of men who knit - and knitters who love men.  And there are a lot more who would like to learn.  We've collaborated with James Cox Knits to bring you our first Beginner Tutorial Design for Men - the Lee Tie.  
James (he goes by 'Jim') has been knitting for years - from the very beginning, he created his own menswear designs.  At first, they were for him, and later, he started selling his designs and kits.  He recently completed a capsule collection for Skacel, and will be featured in an upcoming issue of Vogue Knitting.  You may have seen Jim at a Vogue Knitting Live event.  He's a marketing guru who helps launch luxury travel properties, and knitting is his passion.  We're delighted to kick off our menswear line with a James Cox Knits design.
About the Lee Tie Kit - James named it after his Dad.  It's a Beginner Design that will teach you how to knit.  It also makes a relaxing knit, if you're already a knitter. 
It's designed with Flying Goat Farm's Mo Paca yarn - a limited batch yarn in the natural color of the mohair goats and alpaca fleece from Flying Goat Farm's animals (and a neighbor's alpaca) from their farm in Maryland.  No dyes or chemicals are used in this special yarn that is processed at a small local mill that doesn't use the industrial processes of some larger mills.
We only sell Mo Paca in the Lee Tie Kit, and we only sell the Lee Tie Kit with Mo Paca.  We think they are perfect together.
You have plenty of time to knit this up for a holiday gift for someone you love.  It's also a great gift for someone who wants to learn to knit.