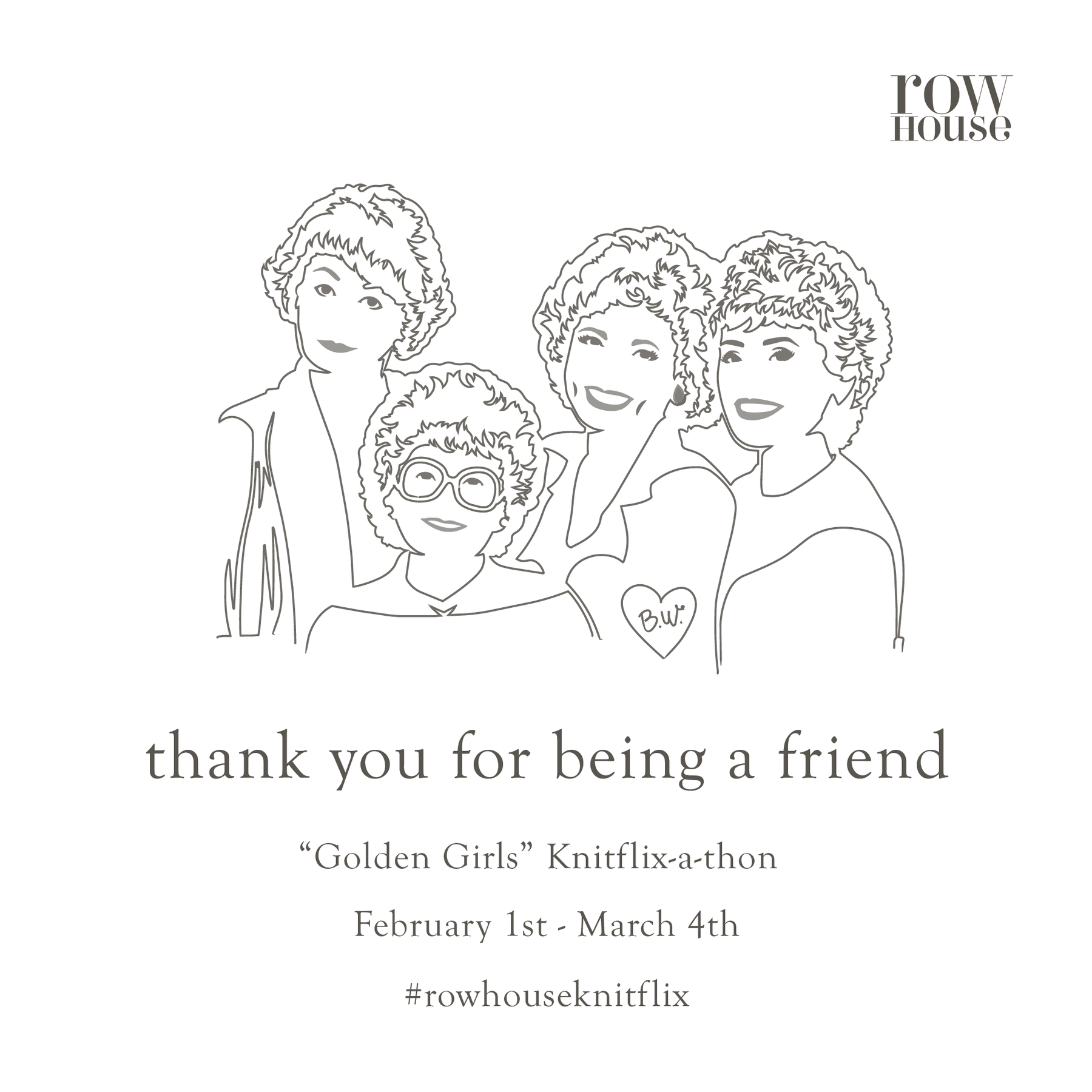 Join us for our Winter 2022 Knitflix-a-thon (& Giveaway)!
XXX Giveaway closed XXX  Winner is @craftymerebear on Instagram!
Our next Knitflix-a-thon (& Giveaway) starts today, February 1st, and ends March 4th.  In  honor of the great Betty White, we'll be watching Seasons 1 and 2 of the Golden Girls (on Hulu) and crafting.
As always, you decide when you want to watch the episodes, and share your thoughts and project photos through Instagram (using the hashtag #rowhouseknitflix to be regrammed by us and for the chance to win a tote bag) or on our Knitflix-a-thon Private Group on Facebook.
What kind of project can I make for the Knitflix-a-thon (& Giveaway)?
Whatever makes you happy - any project, any craft, any yarn.  Stash yarn?  Sure.  A project for another Knit-a-long or Crochet-a-long?  Yep.  You do not need to buy anything from us to join in the fun!
We will be making the Hayven Sweater (here's the Ravelry link) designed by Kate Oates.  It's a relaxed fit, size inclusive, fingering weight sweater with a bit of colorwork.  And we'll be making ours in Cedar House Yarns Sapling Sock and Birch Hollow Fibers Sylvia Sock.  If you're looking for inspiration for a Knitflix-a-thon project, take a look.
Why should I post progress photos of my WIP using the #rowhouseknitflix hashtag?
Because we'll pick one lucky winner every Tuesday (on February 8th, February 15th, February 22nd, and March 1st) from the hashtagged posts to win a free "Knitting: It's cheaper than therapy (mostly)" tote bag.  
What is the Giveaway? How do I enter?
After the Knitflix-a-thon ends on March 4th, 2022, we'll be picking one lucky winner to receive a $200 Row House gift card.
Here's how you enter:
1)  Follow @row_house on Instagram
2)  Tag a fiber friend (or more) who loves crafting, Betty
White, the Golden Girls, bingewatching, or comedy.
3)  Post your finished Knitflix-a-thon project on Instagram and use the hashtag #rowhouseknitflix.  If your account is private, you will need to DM us the pic.  Or post it on our Knitflix-a-thon Private Group on Facebook.
NOTE - your project has to be finished. 

 

Mistakes are totally okay, and beginner projects are great.  But it has to be finished.
4)  The Giveaway ends at 9pm Pacific Time on Friday, March 4th, 2022.
5)  Winners will be announced here and on our Instagram account on March 7th, 2022.
6)  This Giveaway is not affiliated with or endorsed by Instagram.  Winner must have a shipping address in the US, Austria, Belgium, Canada, Denmark, Finland, France, Germany, Greece, Ireland, Italy, Jersey, Luxembourg, Mexico, Netherlands, Norway, Portugal, Spain, Sweden, Switzerland, or the UK.
What if I want to knit a project, but I don't know how to knit?
We've got beginner kits, free beginner patterns, and tons of YouTube videos (we call it KnitSchool) to help you start.  You choose what you want to make, and we're always available to help by DM or videochat. 
We can't wait to see what you create!