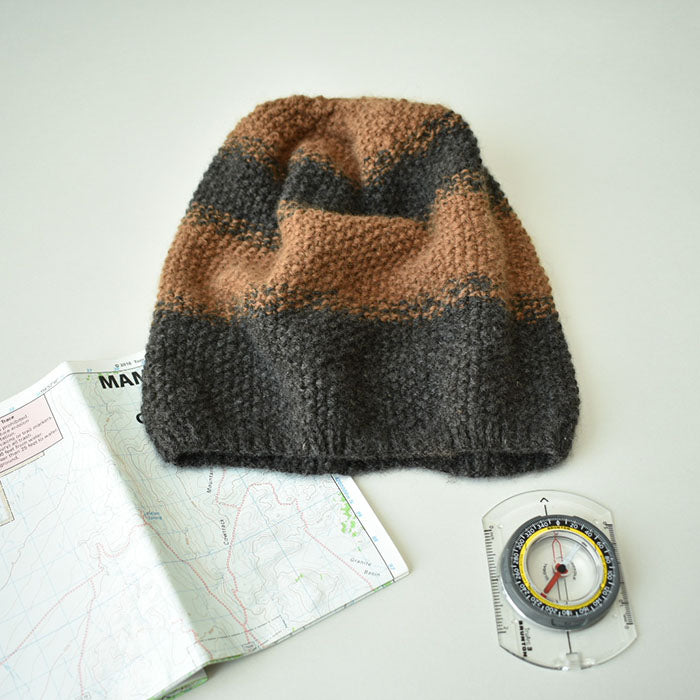 The Reese Slouchy Beanie - Menswear Collaboration with James Cox Knits
We're excited to introduce the Reese Slouchy Beanie Kit, our latest collaboration with James Cox Knits.  It's a seed stitch beanie knit in the round with muted striping, and its modern silhouette means it will be perfect for all of your adventures.
James was recently profiled in Vogue Knitting, and you may have seen his menswear (and unisex) designs for Skacel and on Ravelry.  We're happy to partner with him again to bring you a new Menswear Tutorial Design - one that will teach you to knit in the round, work seed stitch, and change colors.
It comes as a kit with limited edition alpaca yarn sourced by James himself from a small alpaca farm in Ohio.  OHM Farm Alpaca is spun from the fleece of the farm's small herd of alpacas - no dyes or chemicals are used in the processing.  
We've put together 2 colorways that we're sure you'll love, named after the alpaca themselves - Nabisco/Natifa and Murphy/Nickers.
If you're comfortable knitting and purling and are ready to take it to the next level, this is a great next project.  And we're here to help if you need it.