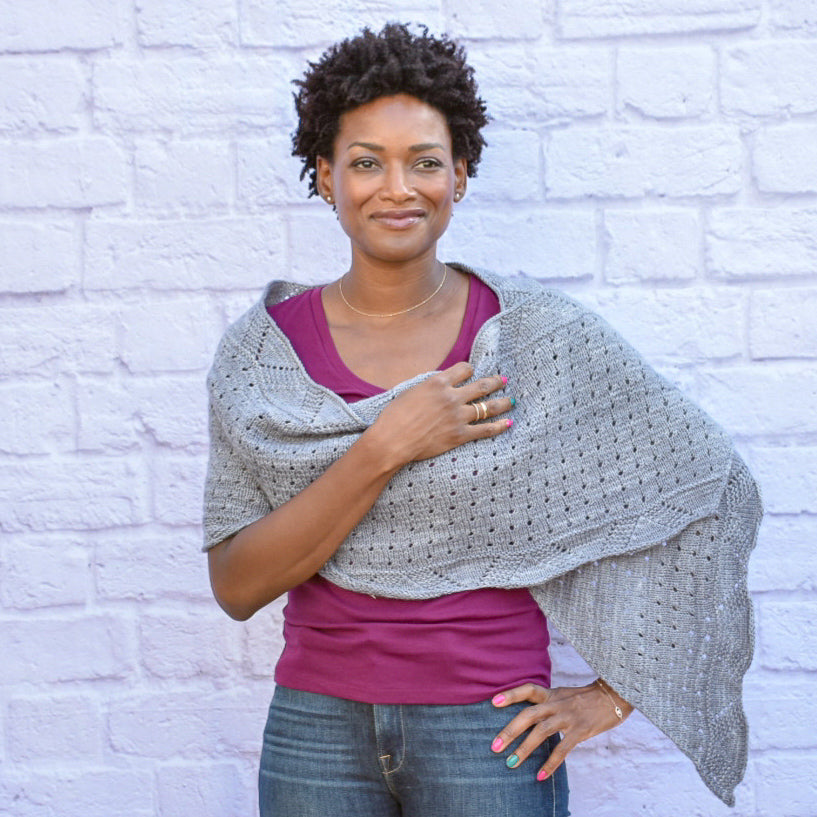 Row House x Niree Noel (@niree_knits)
We're excited to announce our first collaboration with Niree Noel - who you know as @niree_knits on Instagram.  She's been a passionate knitter for years and has designed the Riviera Wrap for us.  You can learn more about Niree on our Meet the Designers page    
Inspired by the rocky coastline of Saint Raphael in the South of France, the Riviera Wrap features a scalloped edge that mimics the waves lapping ashore in the Calanques.  A touch of subtle lacework makes this wrap an ideal transitional piece between the height of summer and the beginning of fall. 
Photo: Sam Ortiz Photos (@samortizphotos on Instagram)
And it's not just a wrap; you can wear it throughout the fall and winter.  Style it like a wrap (see above) during the fall, or as a scarf in winter.  The Riviera Wrap is sold as a Design or a Kit.
Niree designed the wrap using Jorstad Creek's Hazelwood yarn in Mid Gray.  Hazelwood is a wonderful yarn - 100% organic Merino wool sourced from the Pacific Northwest.  Jorstad Creek then creates colors and dyes in their Olympia, Washington studio.  (We posted on IG from their studio last week!).
And it's only Monday - stay tuned for more info and special events with Niree.  She'll also be posting more about her personal inspiration on her Instagram account, so don't miss out!