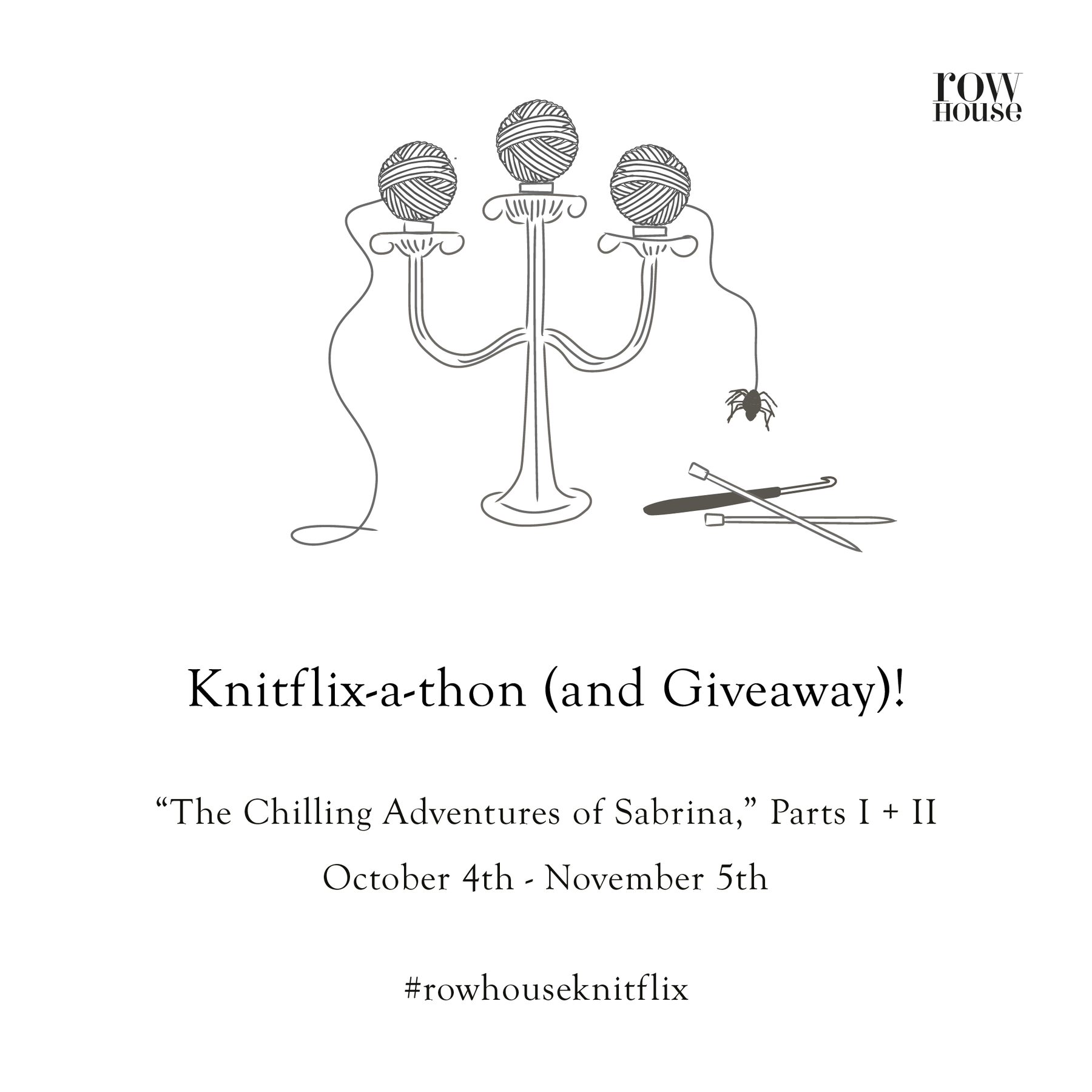 Join Us for our Fall 2021 Knitflix-a-thon (& Giveaway)
XXX Giveaway Closed and Winner Announced XXX
The winner of our Knitflix-a-thon Giveaway is @cliffspellhandcrafts on Instagram!  Stay tuned for our next Knitflix-a-thon!
*****
Our next Knitflix-a-thon (& Giveaway) starts today, October 4th, and ends November 5th.  By popular vote, our community will be watching Parts I and II of The Chilling Adventures of Sabrina (on Netflix) and crafting.
That's 20 episodes to watch over 32 days, which gives you plenty of time to join in, while also celebrating Autumn and Halloween with family and friends.  You decide when you want to watch the episodes, and share your thoughts and project photos through Instagram (using the hashtag #rowhouseknitflix to be regrammed by us) or on our Knitflix-a-thon Private Group on Facebook.
What kind of project can I make for the Knitflix-a-thon (& Giveaway)?
Whatever makes you happy - any project, any craft, any yarn.  Stash yarn?  Sure.  A project for another Knit-a-long or Crochet-a-long?  Yep.  You do not need to buy anything from us to join in the fun!
We are inspired by The Chilling Adventures of Sabrina to make the Spellman Sweater designed by Trysten Molina (Dragon Hoard Designs) and inspired by Sabrina, and we've got the Design and Kits available on our site.  So if you're looking for inspiration for a Knitflix-a-thon project, take a look.
Why should I post progress photos of my WIP using the #rowhouseknitflix hashtag?
Because we'll pick one lucky winner every week from the hashtagged posts of that week to receive a free "It's My Party, and I'll Knit if I Want To" project bag and LoLo Bar in the fragrance of your choice (that we carry :)).  
What is the Giveaway? How do I enter?
After the Knitflix-a-thon ends on November 5th, 2021, we'll be picking one lucky winner to receive a $200 Row House gift card.
Here's how you enter:
1)  Follow @row_house on Instagram
2)  Tag a fiber friend (or more) who loves crafting, Halloween, bingewatching, or spooky shows.
3)  Post your finished Knitflix-a-thon project on Instagram and use the hashtag #rowhouseknitflix.  If your account is private, you will need to DM us the pic.  Or post it on our Knitflix-a-thon Private Group on Facebook.
NOTE - your project has to be finished.  Mistakes are totally okay, and beginner projects are great.  But it has to be finished.
4)  The Giveaway ends at 9pm Pacific Time on Friday, November 5th, 2021.
5)  Winners will be announced here and on our Instagram account on November 8th, 2021.
6)  This Giveaway is not affiliated with or endorsed by Instagram.  Winner must have a shipping address in the US, Austria, Belgium, Canada, Denmark, Finland, France, Germany, Greece, Ireland, Italy, Jersey, Luxembourg, Mexico, Netherlands, Norway, Portugal, Spain, Sweden, Switzerland, or the UK.
What if I want to knit a project, but I don't know how to knit?
We've got beginner kits, free beginner patterns, and tons of YouTube videos (we call it KnitSchool) to help you start.  You choose what you want to make, and we're always available to help by DM or videochat. 
We can't wait to see what you create!