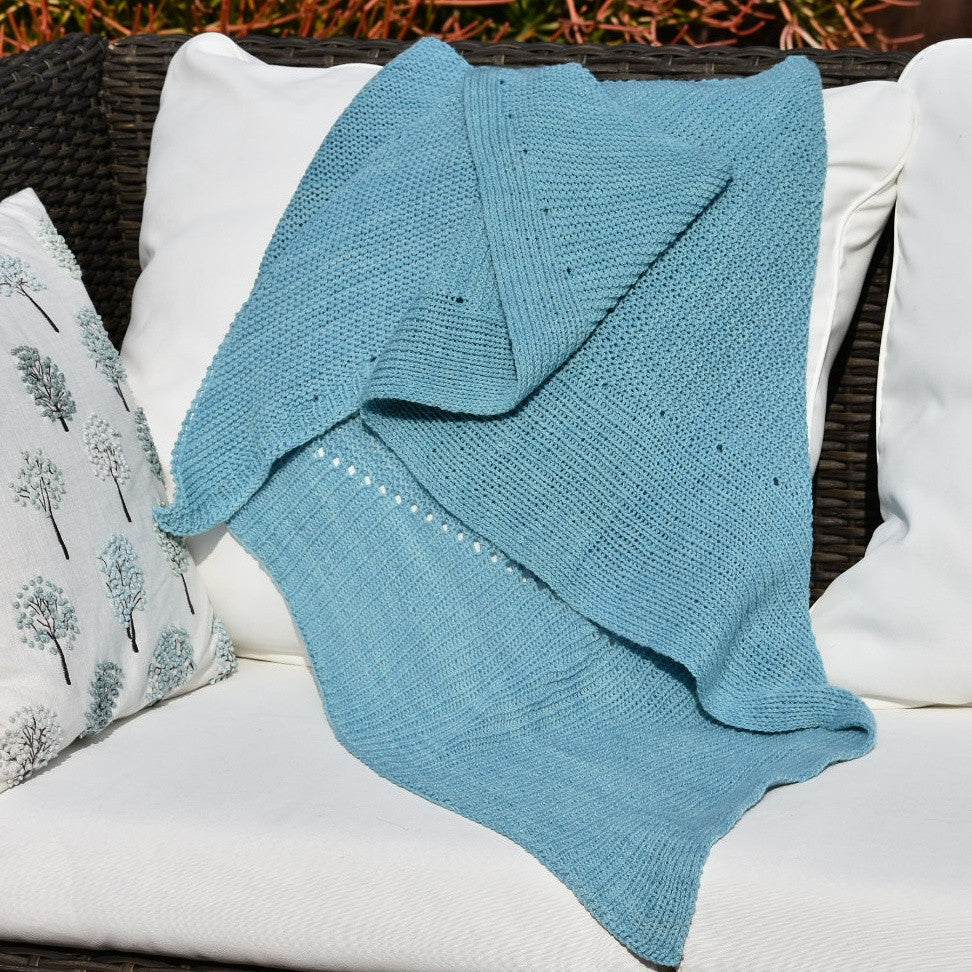 All-Natural Dyed Wool from the Napa Valley
We've just finished a project in Sincere Sheep's Cormo Sport in St Bart's.  We thought it was a good time to share a bit more about Sincere Sheep's sourcing and dyeing process.
First, a little bit about the project.  It's the Wildberry Shawl from Andrea Mowry and Annie Rowden.  The design is available on ravelry.com.  The shawl is a mix of garter stitch and ribbing that is interesting enough to keep you engaged, but not too easy.  We'd call it an intermediate pattern based on the level of shaping required.  We especially love its modern fresh look.
Now, about the yarn and Sincere Sheep!  The Cormo Sport wool is sourced from a ranch in Wyoming.  Brooke Sinnes, Sincere Sheep's owner, believes in the concept of terroir (a principle used in wine-making).  This concept has influenced Brooke to create lines of yarn that are specifically connected to where the sheep are raised.

Sincere Sheep uses all-natural dyes in their studio in Napa Valley, CA to create their beautiful colorways.  To create the St Bart's colorway, they use an all-natural Saxon Blue dye.  Made up of the indigo plant and sulfuric acid, it was first developed in Germany in the late 1700s. It creates the lighter, brighter blues, like St Bart's.  

Sincere Sheep uses a multi-step dye process to transform the natural spun wool to beautiful dyed yarn, ready to ship.    
Sincere Sheep first receives the wool from the mill.  

The wool is removed from the cones from the mill and wound into skeins.  Sincere Sheep then scours it, by using hot water and a little bit of soap.

Mordant is then added to the hot water, which helps to set the dye.
The mordant and wool sit overnight, off the heat.  
After a quick rinse of the mordant and wool, the color is applied.  If it is a single color, dye is applied only once.  If it is a more complex colorway, there may be multiple applications of color.
The wool is then rinsed to remove any extra dye - the darker the color, the longer the process takes!
After rinsing, the yarn is dried, rewound and labeled.
This beautiful yarn is now ready for your needles!