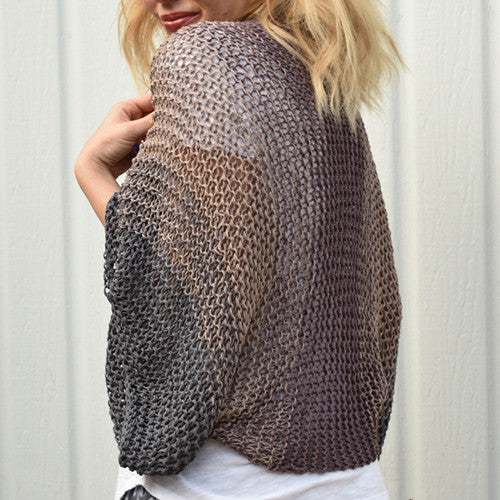 Just in Time for Warmer Weather - The Summer Sunset Shrug
We've been working on Designs for Spring and Summer because we don't put our knitting down when it gets warmer.  We do, though, like to work with lighter fibers for more seasonal projects.  The always creative Roni Halloran has designed the Summer Sunset Shrug that we know you will wear to bits.
You can learn more about Roni on our Meet the Designers page. She's a designer for Michael Kors by day and designs for us in her "free" time.  We just love her fresh, modern, wearable aesthetic.
It's a Beginner Tutorial Design, so if you've never picked up needles before, this will teach you how.  You decide whether to knit it in a color combination or just one color.  
It's only available as a Beginner Kit with Erika Knight Studio Linen.  Studio Linen is an amazing DK weight yarn made from 85% recycled textile waste; it is very soft and has a wonderful sheen.  
You'll knit it with two strands of yarn held together on Size 15 needles, so it knits up really fast.  If you start now, you'll have it done in time for Summer . . . and sunsets.